Perelada, one of the six best wineries in Catalonia according to Gilbert & Gaillard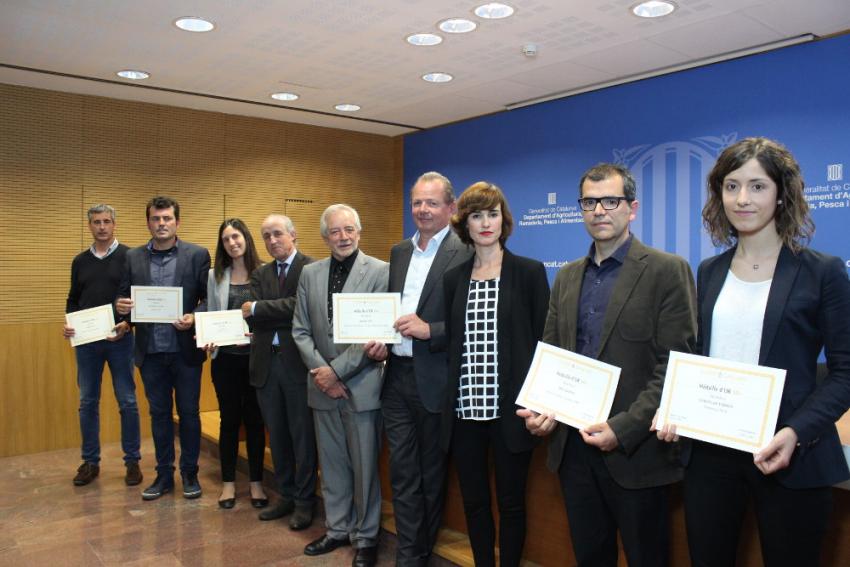 Last Wednesday, in the Barcelona headquarters of the Agriculture Department, Perelada's oenologist, Delfí Sanahuja, received the certificate stating that Finca Garbet is one of the best wines from Catalonia, according to the prestigious French publication, Gilbert & Gaillard. Aires de Garbet 2014 also obtained the highest score, Médaille d'Or 90+, while Finca Malaveïna 2013 picked up a Médaille d'Or. This crop of awards makes Perelada one of the six highest-rated wineries in Catalonia, along with Acústic Celler, Abadal, Gramona, Recaredo and Torres.  For the second consecutive year, Catalonia was chosen by the Gilbert & Gaillard Media Group as the wine region in which to host its international wine competition's 'in-situ' tastings.
The awards ceremony was presided over by Salvador Puig, general manager of Incavi,  accompanied by Valentí Roqueta, chairman of the Catalan Wine Association (AVC), and Mar Torres, director of the Cava Institute.  Gilbert & Gaillard's François Gilbert spoke of the Catalan producers' dynamism, the quality of their wines, the specific characteristics of the different D.O.s and the appeal of the native grape varieties.
Gilbert & Gaillard is a French multimedia group with over 25 years' experience in the field of wine publishing and wine evaluation. Each year, it holds tastings on all five continents.  The results of the International Gilbert & Gaillard Catalonia Competition, the tastings, the tour of our D.O.s' vineyards, wineries and wine growing areas, will feature in a special International Gilbert & Gaillard Magazine report on Catalonia. The magazine is distributed in 22 countries and is the second-most important in the wine sector, with 167,000 copies distributed of each issue.